Pressure Pot Spraying
08 December 2020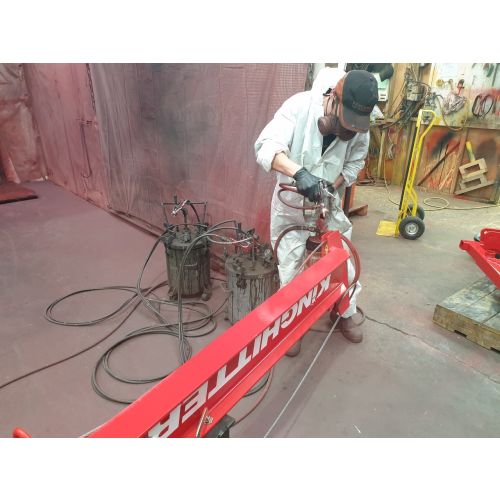 ---
"Simple to use, easy to clean." Makes sense for leading manufacturer.
Soon to add into the ultra-competitive American market to their export portfolio, Farmgear Ltd is one of New Zealand's leading agricultural manufacturers. The family owned company has grown, since its establishment in the late 1980s, through a series of acquisitions which added to the company's already well-proven technical and design expertise.
Today, the company manufactures four well known New Zealand farm machinery brands; Maxam mowers and toppers, Hooper Civil equipment and FencePro and Kinghitter Post-drivers along with other associated products from their Palmerston North base.
General Manager Nathan Barnes says the company's use of the Almax Star guns and pressure pots was the direct result of customer demand for a better paint surface on products which have to take the hard knocks.
He says, as the company's needs evolved, they began investing more in very high quality, heavy particle, two-pack paints and additional colours, all of which the pressure pots are well suited to.
Farmgear had done extensive research into other application technologies including electro-static but he says the move to a "low tech" solution is delivering the results they were after, with minimal waste.
"The set-up is quick and easy, they're simple to use and easy to clean using thinners. We wanted something that would make it easy for our two full-time painters, too."
"It's low cost and we can use any colour, any time, any day. The Star guns are also very controllable, and simple to maintain, which is important."
Nathan says he also appreciates Almax's service. "They always have spares, replacements and the equipment when we need it."
"They're a great company to deal with."